Why Choose Bob Allen Ford Parts Department?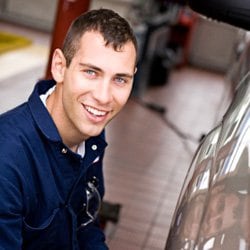 Chain stores and locally owned parts shops are lacking in two areas: knowledge and inventory. Most other stores will hire just about anyone with a pulse to man their parts counter, while the auto parts professionals at our Ford OEM parts department in Overland Park, KS are certified by the manufacturer and have hundreds of hours of expertise.

Most parts stores have to either order the OEM parts you need at a significant markup, or will suggest you try a brand you've never heard of before. The parts department at Bob Allen Ford in Overland Park, KS maintains strict inventory levels to guarantee that we will almost never have to special order a part and the majority of our parts ordered are filled the same day with Genuine Ford or MotorCraft OEM parts.

Are You Looking For Genuine Ford OEM Parts?

Have you tried generic parts or 'no-name' brands? Genuine Ford and MotorCraft OEM parts are engineered to keep your Ford car, truck, or SUV performing at the same levels that were set at the factory.

Have you been searching for for a reliable supplier of Genuine Ford OEM parts? Look no further than the parts department at Bob Allen Ford in Overland Park, KS. We have access to the full catalog of Genuine Ford and MotorCraft OEM parts, so you now have the same access.

Order Ford OEM Parts Online

Do you want to avoid the hassle of going down to a chain store or locally owned parts shop and looking through the big dusty parts book? Use our online order form to get your next Genuine Ford or MotorCraft parts order from Bob Allen Ford in Overland Park, KS. Simply give us as much information as you can and our auto parts experts will get to work.

Service & Parts Specials Available

Do you want to save on your next auto service or parts order? Take a look at our current auto service & parts specials, coupons and incentives to get the same high-quality maintenance or Genuine Ford and MotorCraft parts for less at Bob Allen Ford in Overland Park, KS.

Do you have questions that only an auto service or parts specialist can answer? Get in touch with the team at our Ford dealership in Overland Park, KS through our website or by phone at (844) 339-0169 for auto service or (888) 602-8409 for parts.
With Bob Allen Ford by Your Side, Your Search for Auto Parts in Overland Park is a Breeze
Proudly serving customers from Overland Park, Lenexa, Prairie Village, Leawood and Kansas City MO, Bob Allen Ford knows what a hassle it can be to find the right Ford OEM parts for your Ford F-150, Fusion, Escape, Explorer or Mustang. That's why our team aims to reduce the time you spend in search of the proper component by staffing an onsite auto parts department.
Our team is well-versed in every aspect of the automotive industry, which means you can count on us to locate the exact part you need. What's more, if we don't have it in stock, we can order it for you. It's all a part of our commitment to serving your needs above all else.
If you'd like to see what our parts department can do for you, please contact us today. But before you do, make sure to have a look at our auto parts specials to see if what you need is currently on sale.