Mobile Service by Bob Allen Ford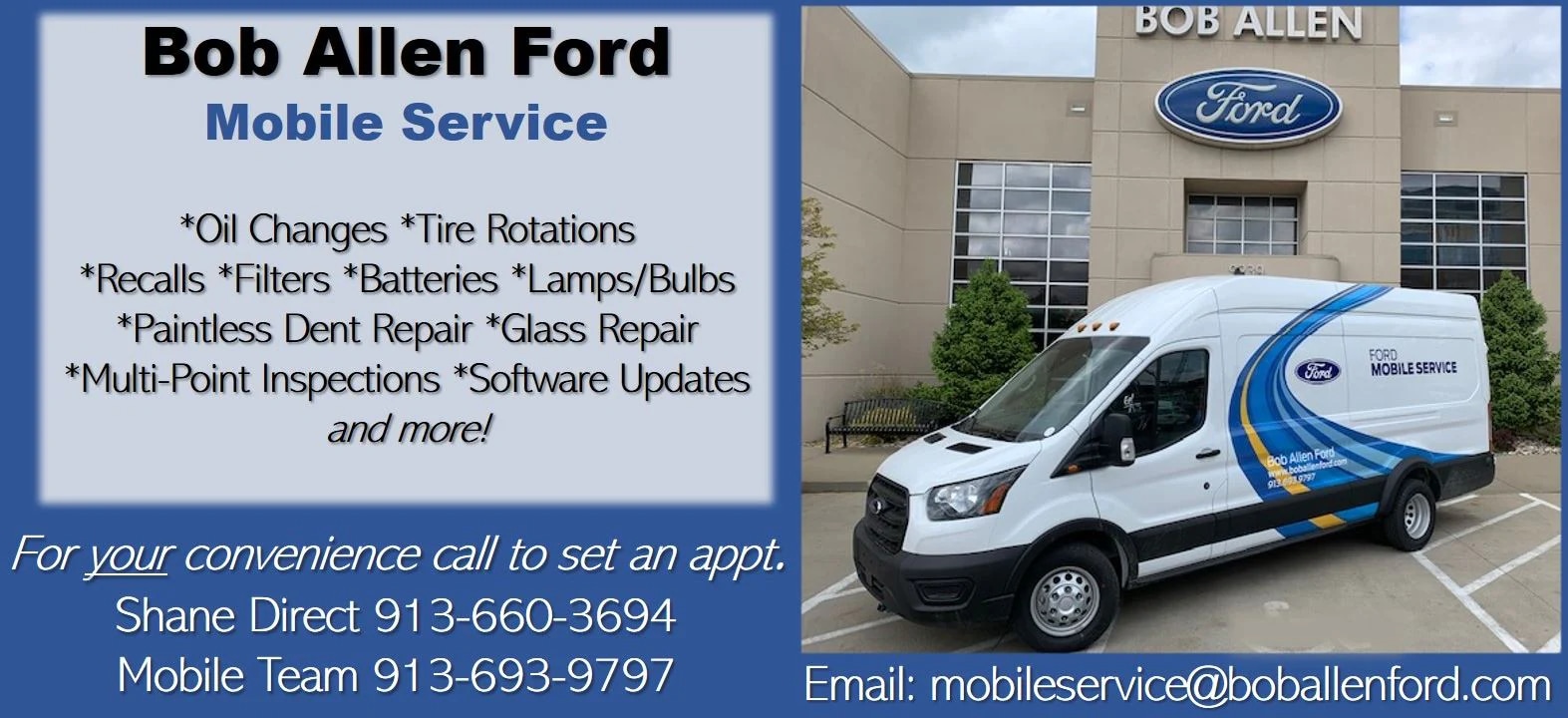 Introducing Mobile Service
by Bob Allen Ford

CALL or EMAIL us today to schedule your appointment
If you are at home or work and need maintenance or minor recalls done, we can come to you!  Have co-workers or neighbors that also need a little work done? We can schedule a time and do all of your vehicles at once!
From oil changes to tire rotations, batteries, lamps/bulbs, filters, or even glass repair or paintless dent repair! Give us a call or schedule your appointment below!  Let us come to you!  Our goal is to keep your vehicle running perfectly while making it convenient for you!
Our Mobile Service Team looks forward to making your experience more convenient for you!
Read Mobile Service Customer Reviews!
Having this mobile option has been such a time saver. Great option!
Utilized the mobile service to have multiple vehicles serviced at home. Love the flexibility of that offering, which avoids having to coordinate the drop-off and pickup of vehicle(s). Team running the mobile service has a high level of professionalism, great communications, and customer focus.
I used their Mobile service. It was very convenient and was performed very well.
Everything was handled efficiently and quickly and I didn't have to do anything.
I USED THE MOBILE SERVICE. THEY CAME TO MY HOUSE AND PERFORMED ALL OF THE SERVICE IN MY DRIVEWAY, EXCELLENT CUSTOMER SERVICE AND EXTREMELY CONVENIENT!
The communication and promptness with the service. Very convenient to have the service done at my work.
Mobile service was great. Came right to the house and did everything quick and easy! Great people as well.
This review is more solely focused the new Bob Allen Mobile Service - IT WAS AMAZING!! Shane & Travis were super helpful! My car died since I haven't been driving much due to Covid. I needed a new battery, air in my tires, new windshield wipers, oil change, and a new air vent - they did it all so quickly!! All while I was still able to work from home. It was super convenient and I'm so happy they are offering this service now. I will definitely continue to use it in the future. No more waiting in lines, having to sit and wait to get your oil changed, etc. Literally USE this service. You will be so happy.
How can we help?
* Indicates a required field