Looking for a Collision Center around Overland Park, KS to Repair Your Vehicle?
Whether you had a fender bender, bumped someone in a parking lot, or were involved in a major collision, here at Bob Allen Ford we have the auto technicians qualified to restore your Ford car, truck, or SUV to its previous glory.
What to do After a Collision or Accident

No matter who is at fault, there are a few hard and fast rules worth remembering if you are ever involved in a collision.
Stay on the scene. If you are uninjured and able, do move your vehicle to the side of the road, and turn on your hazard lights.
Call the police and your insurance company. Even if there are no injuries, an officer can act as a mediator, and an incidence report may be necessary to file an insurance claim.
Exchange information. You will need the name, address, and phone numbers of the other driver and any passengers, in addition to license plate number and insurance information, and witness statements.
Take photos of any and all damage.
Call for roadside assistance, if necessary, from a repair shop like our collision center in Overland Park, KS.


What is the Process?
Taking a vehicle in for repair after an accident will cover cosmetic and body damage, but some repairs usually deal with unseen damage. A crumpled hood could be hiding a damaged engine block, while a cracked bumper cover or dented fender could mean frame or suspension damage.
The expert collision specialists at Bob Allen Ford will assess your vehicle using advanced diagnostic equipment, and carefully return it to pre-accident condition.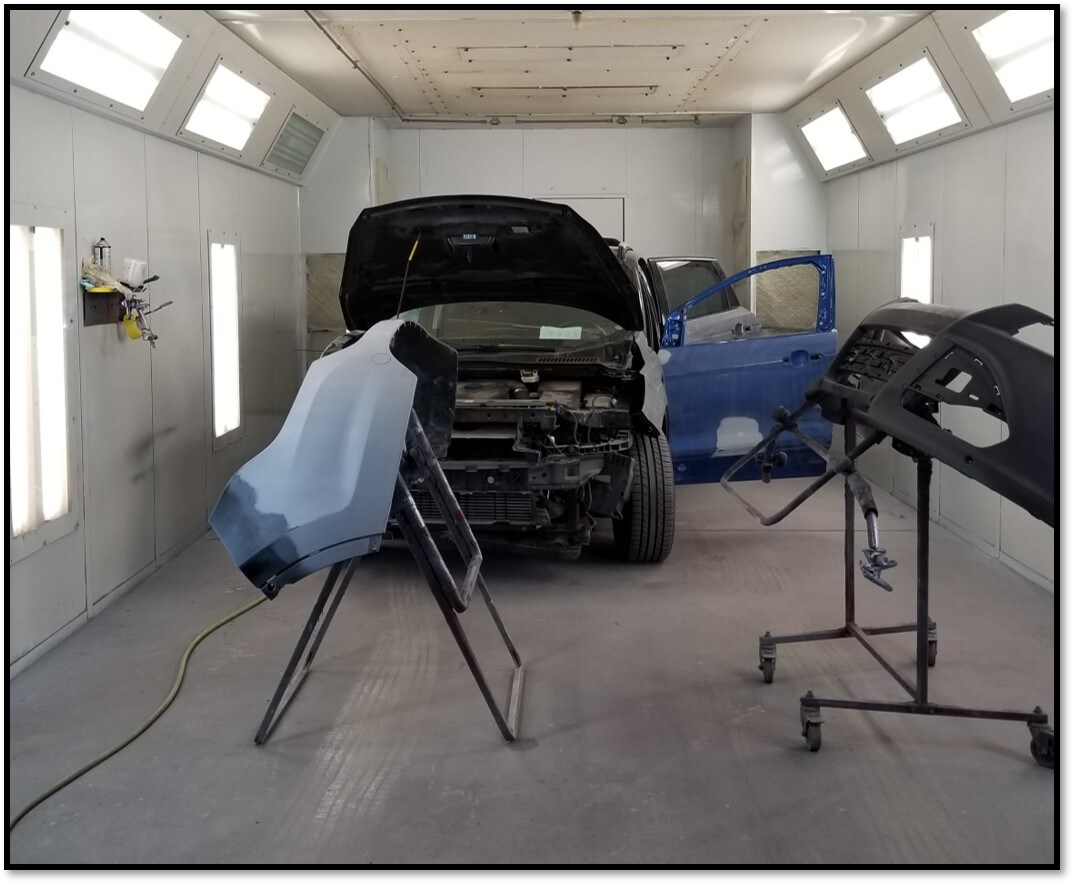 How Long Will it Take to Fix My Car?
This will depend on how extensive the damage to your car, truck, or SUV is, but rest assured; the auto repair process at our collision center is streamlined, to provide the most high quality work possible as efficiently as possible.
To get a better idea of how long it may take, call one of our technicians at (844) 338-8827, or fill out our online contact form. Make an appointment with our body shop using the form below.
Dings? Dents? Scratches? Not Anymore, at our Overland Park Body Shop
From the grocery store parking lot to the kids playing in the driveway, body damage can be hard to predict here in Overland Park. That's why Bob Allen Ford staffs an onsite auto body and collision repair shop. So when a key slides out of the lock or a rogue shopping cart makes a beeline for your bumper, we'll be there for you.
With remedies for all Ford models, including the Ford F-150, Fusion, Escape, Explorer and Mustang, an appointment with skilled professionals is just a click or call away. You can sign up with our easy-to-use online form below, call us at (844) 338-8827, or come in personally, and we'll get you in when it's convenient for you.