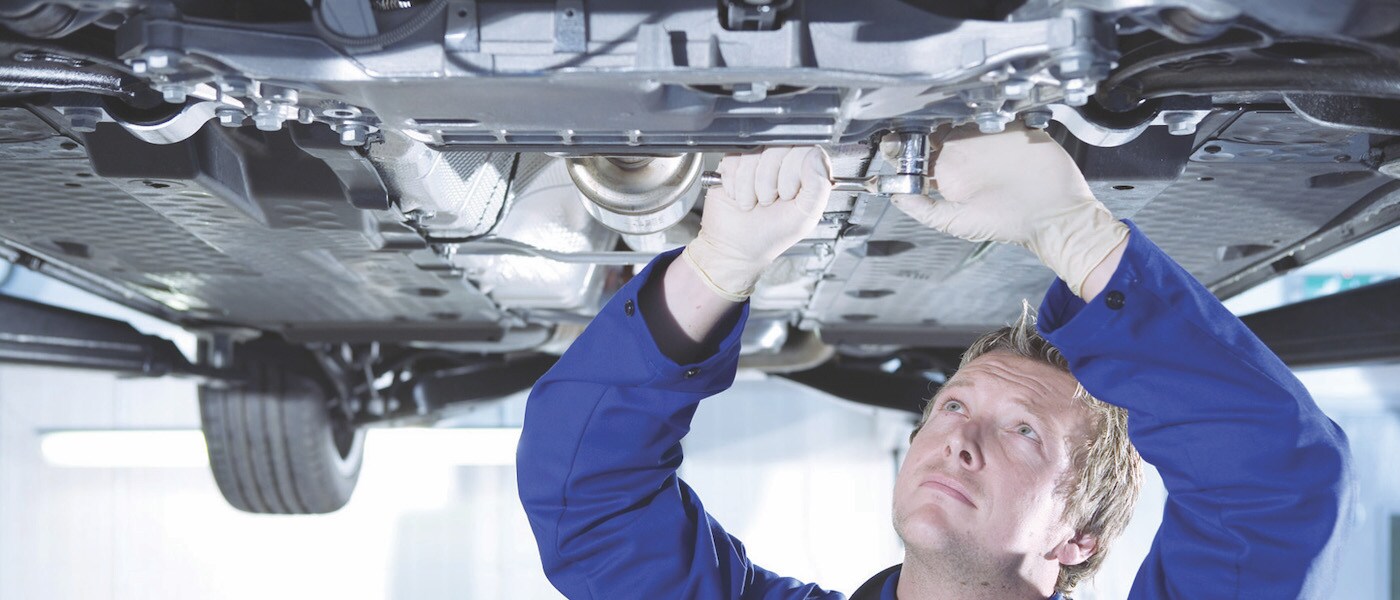 Maximize your efficiency and prevent future costly repairs when you stay up to date with regular oil changes in your Ford car, truck, or SUV. At Bob Allen Ford in Overland Park, KS, we're here to make sure your Ford runs the way it was designed - smooth and powerful. That's why we've collected some of the top tips and advice on how to properly maintain your Ford's engine oil in this handy guide.
Bob Allen Ford


How Often Should You Change Your Oil?   
---
The way you drive, and what you drive, will determine how often you need to change your oil. The thinking about oil changes used to be that oil should be changed every 3,000 miles. But now, with better designs and improved synthetic engine oils, you can go up to 10,000 miles in between oil changes with certain vehicles.
If your Ford is a 2008 or newer model, we recommend you change your oil every 7,500 miles or six months, whichever comes first. If your Ford is a 2007 or older, Ford recommends you change your oil every 5,000 miles or every six months, whichever comes first.
The way you drive also impacts when you should change your oil. If you drive primarily short distances, you may want to consider changing your engine oil sooner than if you drive longer distances. During long drives at steady speeds, the heat from your engine boils any condensation out of your engine oil. On short trips, your engine doesn't get hot enough to perform this function and the condensation can cause your oil to break down sooner.
If you're not exactly sure when to bring your Ford in for an oil change, give one of our Ford experts a call at (844) 339-0169. Our service technicians know their stuff, and they know what's right for your vehicle. You can also check your Ford's intelligent oil-life monitor in the instrument cluster message center.
Bob Allen Ford


What Type of Oil Do I Need?   
---
The engine in your Ford needs oil to lubricate all its moving parts. But as you pack on the miles, the oil can begin to break down and pick up tiny fragments of metal from the engine. This reduces the effectiveness of the oil and the bits of metal increase friction and heat in your engine.
Modern advancements in engine and synthetic oil technology help you avoid oil degradation and increase the time between oil changes. Synthetic oil also tends to flow better, especially in cold conditions. This makes it a better choice for the health of your engine during the winter months. Synthetic oil also handles high heat better than conventional oil, resisting breakdown. Synthetic oil helps your engine perform better for heavy hauling jobs, and synthetic oil is a better choice for older models prone to engine sludge buildup.
Synthetic oil does come with a higher price tag than conventional oil, so consider what you want to use to keep your Ford running. If you'd like a professional opinion on whether to use synthetic versus conventional motor oil in your Ford, contact one of our expert service technicians either online or at (844) 339-0169, and we'll help find the right oil for you.
Bob Allen Ford


Oil Change & Service Coupons   
---
When you come to Bob Allen Ford for service, you get an oil change - and so much more. The Works™ is a thorough maintenance appointment performed by our Ford-trained maintenance specialists. The Works includes:
       
Oil change with a synthetic oil blend
       
Tire rotation
       
Tire pressure check
       
Brake inspection
       
Fluid top-off
       
Battery test
       
Multi-point inspection
       
Filter test
       
Hose and belt check
   
Ready to bring your Ford in for service, but also want to save on your next appointment? Browse our selection of service specials to find the best way to fit the right choice into your budget.
Schedule an Oil Change in Overland Park, KS, Today!
---
If you think it might be time to change the oil in your Ford, schedule service and get on a good maintenance schedule today. Our Overland Park, KS, dealership is proud to serve the Kansas City, MO, area. Please contact one of our Ford service specialists either online or at (844) 339-0169 with any questions.